EGO KIT
EGO Kit, here are the best electronic cigarette 2016 for beginners without a doubt. You can buy loose, but I recommend that if you want to quit, you buy some kit with 2 units. Quitting smoking is a serious thing and it is difficult to take the step, so if you've decided to do so, you must bet the maximum, and if you buy a kit with 2 units, may think is to earn more money but DO NOT.
To not fall, you should always have your hand electronic cigarette, so I put one in the car cigarette lighter charger and the other at home or around the neck. This way you will not fall into the temptation of smoking a traditional cigarette for having left yours at home. Besides the price difference it is not much.
Here we will describe the kits we tested.
KIT EGO V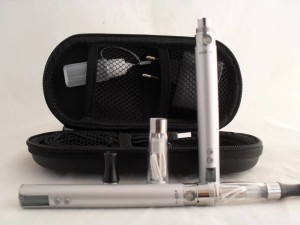 The EGO kit is one of the most recommended if you want to start "vaping". It has a powerful battery of 900 mAh which corresponds to about 800 puffs a CE4 atomizer which give very good performance. The biggest advantage is that it has a power regulator on the tip with a marker, this will serve to regulate the power of 3 volts to 6 volts. It is a sure way of knowing that you'll have steam you want.
The system has a lock on and off so as not to press the button without realizing it if you take it in your purse or pocket, must press 5 times in succession both to lock and to unlock, the LED on the button lights.
The charging system is very simple: 1) remove the nozzle. 2) Filled with liquid with or without nicotine. 3) You put 2 drops flavor you want (If you want to quit I recommend flavored snuff, there are several Camel, Winston, etc ..). 4) mixtures of liquids. 5) You press the button to unlock it 5 times. 6) You push and vapeas.
The price of this kit EGO V cigarettes including 2 full, 2 SG 4 atomizers, an empty to put your liquid E and refill bottle, USB charger and wall for only 50 euros and shipments are free. You can see more details of this cigar clicking EGO V  . To give you an idea this is what I gave to my mother and this enchanted. Yesterday was the first day and smoking a pack, was only a cigar smoke (you I have to ask which was the reason, and I will tell …)
Kit EGO-K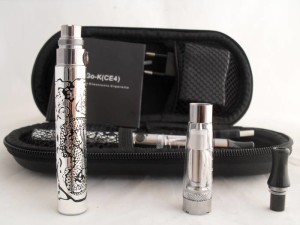 The EGO kit is perfect for beginners, it is disassembled into 3 parts, battery and atomizer nozzle.The kit comes with 2 battery is 900 Mah which corresponds to about 800 puffs, 2 atomizers EC4 that are highly recommended, USB charger and wall and empty bottle to fill the tank. So in this kit are two complete cigarettes.
It has a safety button so that it locks or unlocks pressing the button 5 times in succession. The burden is very simple is effected by removing the nozzle, the liquid is poured to the line of 1.6 ml and then 2 drops of flavor you want. Your you want to quit smoking, start with liquid nicotine (24 or 12 mg) and flavor of snuff. When you run out the bottle will last approximately one month, buy the bottle of 12 mg and then 6 mg, up to 0 mg of nicotine, you'll stop smoking without find out !!
The price of this kit EGO are 49 euros and free shipping to the mainland, do not think and let the snuff enjoying! You can buy it see more details on this link EGO K
Q EGO kit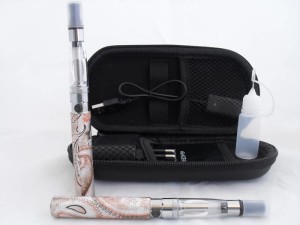 Exactly the same description as the EGO K, the difference is the battery design, all the features are the same, you can see in the following link EGO K
EGO Kit C TWIN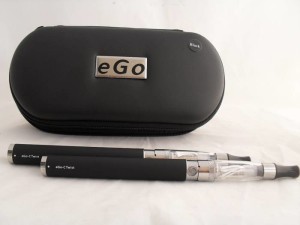 Here are the epitome of elegance. It is available in black as this or silver. very soft and very easy to use touch. This E cig also comes with 2 cigarettes in the kit, 2 atomizers EC4, bottle storage in E liquids, USB and wall charger and holster.
E cigs These kits come with 2 powerful batteries 900 Mah approx 800 puffs. with regulation. If you look at the top you can see a white dot and a graduation. With this you can regulate cigarette battery power from 3.6 to 4.8 volts. I have given it to my brother today and have loved it. After testing with liquid nicotine and flavor to Snuff, it has smoked a cigar to try to notice a difference.He did not notice much difference from a normal cigarette, indeed, it seemed a strong flavor and is convinced that quitting smoking with this cigarette, I'll keep you informed.
If you want to buy the ego C twin you can see more info on the following link EGo C TWIN  price are 59 euros, but will have a Ecig category, yes sir!
These Kits Ego are those we recommend, you see the price difference is very small between normal and power regulator.